I still find it hard to believe that with the end of this month, I'll have been a part of AIESEC UBC for a year. The journey has taken me from being a shy biology student to becoming more reassured and driven. It's given me the gift of 80 unforgettable AIESECers, each with their own unique and admirable personalities, and inspiration for me to be better every day. It's taken me through my first (and incredibly nerve-wracking) marketing presentation, my first fifty cold calls, and having the opportunity to sign a contract with a company, all culminating to my current term as Vice President of Corporate Relations (VP CR).
One aspect of this organization that was completely new for me when I first joined was the conferences: concentrated learning environments where the bright minds in AIESEC got together to discuss our future, leadership, and everything in between. As a new member, they were unbelievable experiences for me to have, and having already been to two (Western Regional Conference 2012 and Coastal Conference 2013), I thought I knew what I was getting into when I signed up to attend the National Leadership Development Conference (NLDC) in Calgary this year. I was expecting the same vibrant and infectious atmosphere, with an unhinged passion for AIESEC that would manifest itself in everything from dances to cheers.
Despite all my experiences thus far, though, NLDC was an immense eye opener for me. For one, the scope magnified exponentially; I was now in the company of 300 AIESECers from all 29 Local Committees across Canada. It was also the first conference I had ever seen the outgoing and incoming Member Committee together in one place, and I knew it would be a special privilege to have the national team facilitate our sessions.
My conference began a day earlier than everyone else's, having been invited to attend the National Sales Program 2.0 hosted by the outgoing and incoming VP CR's for AIESEC Canada, Dominic Tremblay and Kaylee Muise respectively. Within our small group of eight, VP CR's from across the country discussed corporate strategy, sales culture, team management, and problems we were facing. The elevated learning environment allowed me to create unique solutions and ideas for our own Corporate Relations portfolio, and I can't wait to take back what I've learned to the rest of AIESEC UBC!
After a rousing first day of roll calls, an introduction to our chair Erika Welch (who was absolutely inspiring), and meeting our home groups for the conference, we moved right to the main event: the Youth to Business (Y2B) Forum. Forward-thinking leaders and businesses came in to discuss the topic of whether youth were ready to face the societal, environmental, and economic challenges of tomorrow. With speakers as distinguished as Jim Dinning, the chancellor of the University of Calgary, and Mayor Naheed Nenshi, and topics as diverse as corporate social responsibility and the importance of being "scurvy elephants," I came out of the day convinced AIESEC is effectively developing our future leaders. Stepping out of our comfort zones and gaining the skills to drive and lead change are part of the everyday norm for AIESECers, and we are part of the very change that is moving our world in the right direction.
Having been inspired to achieve incredible things, the bright minds at NLDC got together to put our summer planning into action. Your potential is limited only by the number of people you want to share it with, and during our many planning sessions, I had the opportunity to take part in some eye-opening exchanges of ideas with many other AIESECers across Canada in all portfolios. With exchange at the heart of our summer campaign, and the dedicated work of the consolidation team, we launched the "Summer of Superheroes!"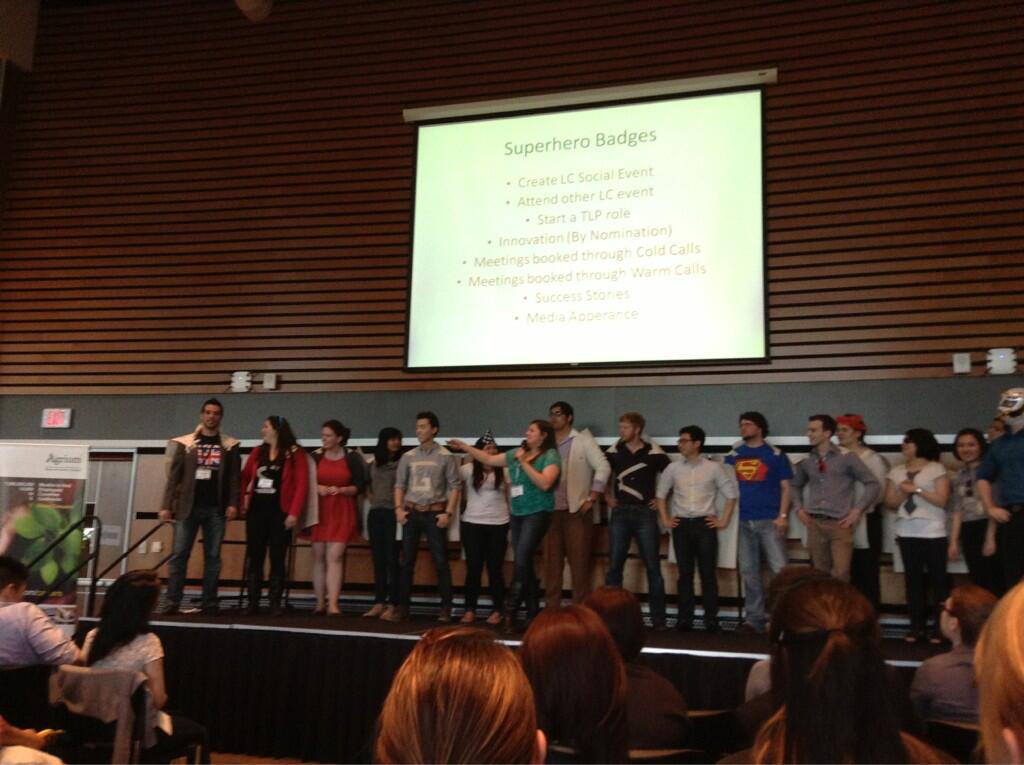 NLDC wasn't all about AIESEC, though; it was also about us, about developing our own potential to one day lead distinguished careers. AIESEC University brought in external speakers from across Calgary to pass on new sets of skills for us to utilize in AIESEC and beyond. I attended sessions on topics ranging from pipeline management to building winning teams to learning how to negotiate, and I could see the immediate relevance to both my AIESEC and professional careers. I now know how AIESEC is preparing me for the future, and I'm ready to follow that path armed with an arsenal of new skills and ideas.
Despite meeting so many new people, every conference is an opportunity to get to know your own Local Committee better. There's something about living with and staring at the same group of 17 people that somehow allows you to discover new things about them. Every conference, I'm reminded about why I stayed committed to this organization: because of the people. Because of their ideas, their smiles, and their fire, I step out of every conference, and especially NLDC, knowing I can make something amazing happen with this team. Change driven by one person alone is amazing, but change driven by a team is lasting.
There were many lessons learned at NLDC, both personal and professional. There were new friends made, old friends discovered, and lifelong connections forged. To quote a much clichéd line: "You have to see it to believe it." I'm glad I went, and I'm thankful for the people who went with me. Especially to the non-Executive Board members that went, your passion and presence really inspired me to make this organization better!
And so, as I inch closer and closer to my first anniversary with AIESEC UBC, thoughts of what I've accomplished and have yet to accomplish float around my head. Out of this conference, I know where I stand in AIESEC, where I want to go, and how I'm going to get there. NLDC was a perfect culmination of my work thus far and also an initiation into the next chapter of my AIESEC career, and I wouldn't have wanted to celebrate my first year in any other way!
By Andres Lee, Corporate Relations